We have an appetite for cooking.
THE COOK
Davide, owner & winemaker, is a home cook. He grew up on the foods prepared by his mother and grandmother, classic recipes of Northern Italy's Lombardia Region. Davide has been in the food industry for over 20 years.
FARM FRESH INGREDIENTS
Trezzi Farm is proud to offer fresh homemade foods made using estate wines, garden herbs and seasonal vegetables grown on our farm.
GLUTEN & DAIRY FREE
We offer gluten free, dairy free and vegan foods for catering. All of our foods are nut-free. We do not use trans-fats or preservatives.
Davide and Stephanie-

"Our party was
a HUGE success
and you both played a key role
in it. All of the food was
absolutely delicious.
Mille graze!!!"

- Thank you again, Patricia, CH2MHill
YOUR CATERED EVENT
Trezzi Farm offers two types of catering services available all year round:
Catering Delivery
Freshly prepared foods will be delivered to your event site and set up on your buffet.

Catering Pick-up
Freshly prepared foods will be prepared for your pick-up and transport.
EVENTS on TREZZI FARM
Host your event at our winery spring through fall. A minimum wine purchase and the winery's in-house catering services are required. Wine tasting is provided.

CATERING PRICING
Catering pricing is determined by the menu selected, number of guests, and type of service provided. To contact us for a quote please call 509-238-2276 or email davide_stephanie@yahoo.com.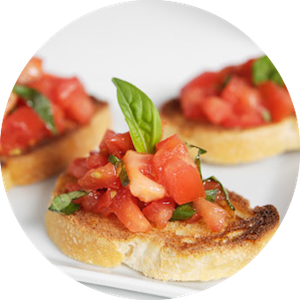 Starters
bruschetta w/toasted garlic baguette
focaccia with olive oil & balsamic
Italian style cheese platter
harvest vegetable platter
Meats
barbecued tri-tip roast
meatballs sauteed w/rosemary
roast pork tenderloin (max 50)
chicken milanese (max 25)
Layered Dishes
meat lasagna
marinara lasagna
polenta marinara
Pastas and Sauces
caprese pasta
assorted dry pastas
meat sauce
marinara sauce
pesto sauce (no nuts)
Salads
organic field greens
fresh garden
caesar
caprese pasta salad
Breads
hand-sliced Italian loaf w/butter
garlic
Dolce
Davide's tiramisu
affogato al caffe'
"Italian wine and food..."
… are our passions. In Italy, the culture revolves around both - growing, cooking and eating ~ with a glass of wine in hand. We have our own piece of Italy right here on our Green Bluff farm. We grow what we can and enjoy the fruits of our labor. If you're ever in the neighborhood, we hope you can stop by for a visit. ~ la dolce vita!
Our party was a HUGE success and you both played a key role in it. All of the food was absolutely delicious. Mille graze!!!

- Thank you again, Patricia, CH2MHill

I am so glad I found you. I purchased the meatballs and Polenta and my family and I had it for dinner tonight. Oh how marvelous! Delicious! Took me back to growing up in New York in a large Italian family.

- Many blessings to you both and your farm and endeavor! Cindy Scinto

Thank you for feeding everyone so beautifully and so well - highest quality and so delicious! Everyone continues to tell me how great you were!

- Bugzy and Nora

We love your place and we love your food. But mostly we love you.

- Jeremy and Chena