WELCOME
Welcome and thank you for visiting. Our 22 acre winery and farm is located atop the historic farming community of Green Bluff, WA. In 2005 we planted our first vineyard of Barbera, and a garden of vegetables and culinary herbs.
The vineyards have grown to 6 acres to include Nebbiollo, Dolcetto, Pinot Noir, Pinot Grigio and Franconia. We have an additional 13 acres we keep in oats, alfalfa, and wheat. top photo: www.ifongphotography.com
A LITTLE ABOUT US
Davide is from Milan, Italy, and Stephanie is originally from the Pacific NW. We made the decision to move to the Spokane area after a good friend told us how special it was.
We started out by catering, planting grapes, and selling our retail foods from our farm and local farmers markets. After our first grape harvest we became a winery, and converted our tractor barn into our farm's tasting room.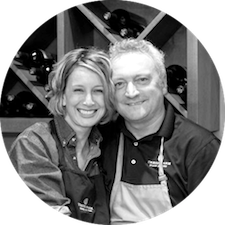 Alla fine! Our lives follow the seasons, and our work changes with the length of the day. Our farm winery is our passion, and our labor of love. La dolce vita!
If you are interested in finding out more about the history and goings on at Green Bluff, WA where Trezzi Farm is located, please visit Green Bluff Grange #300's Facebook page: Green Bluff Grange #300
Trezzi Farm Winery & Vineyard
17710 N. Dunn Road, Colbert, WA 99005


Davide Trezzi, Winemaker
Stephanie Trezzi, Assistant
John Simpson, Consigliere

Trezzi Farm Winery & Vineyard
17710 N. Dunn Road, Colbert, WA 99005


Davide Trezzi, Winemaker
Stephanie Trezzi, Assistant
John Simpson, Consigliere

Trezzi Farm Winery & Vineyard
17710 N. Dunn Road, Colbert, WA 99005


Davide Trezzi, Winemaker
Stephanie Trezzi, Assistant
John Simpson, Consigliere

Trezzi Farm Winery & Vineyard
17710 N. Dunn Road, Colbert, WA 99005


Davide Trezzi, Winemaker
Stephanie Trezzi, Assistant
John Simpson, Consigliere

Trezzi Farm Winery & Vineyard
17710 N. Dunn Road, Colbert, WA 99005


Davide Trezzi, Winemaker
Stephanie Trezzi, Assistant
John Simpson, Consigliere

Trezzi Farm Winery & Vineyard
17710 N. Dunn Road, Colbert, WA 99005


Davide Trezzi, Winemaker
Stephanie Trezzi, Assistant
John Simpson, Consigliere

Trezzi Farm Winery & Vineyard
17710 N. Dunn Road, Colbert, WA 99005


Davide Trezzi, Winemaker
Stephanie Trezzi, Assistant
John Simpson, Consigliere